A 48 years old male chef presents with a 20 years' history of oozing wound with severe burning pain surrounded by dry itchy patches on medial side of the left ankle.
On detailed interrogation he was non smoker and non alcoholic and non allergic, had generalized burning pain get exacerbated during day after long standing which is not alleviated by any measures. The oozing wound have been gradually getting worse over last 6 months.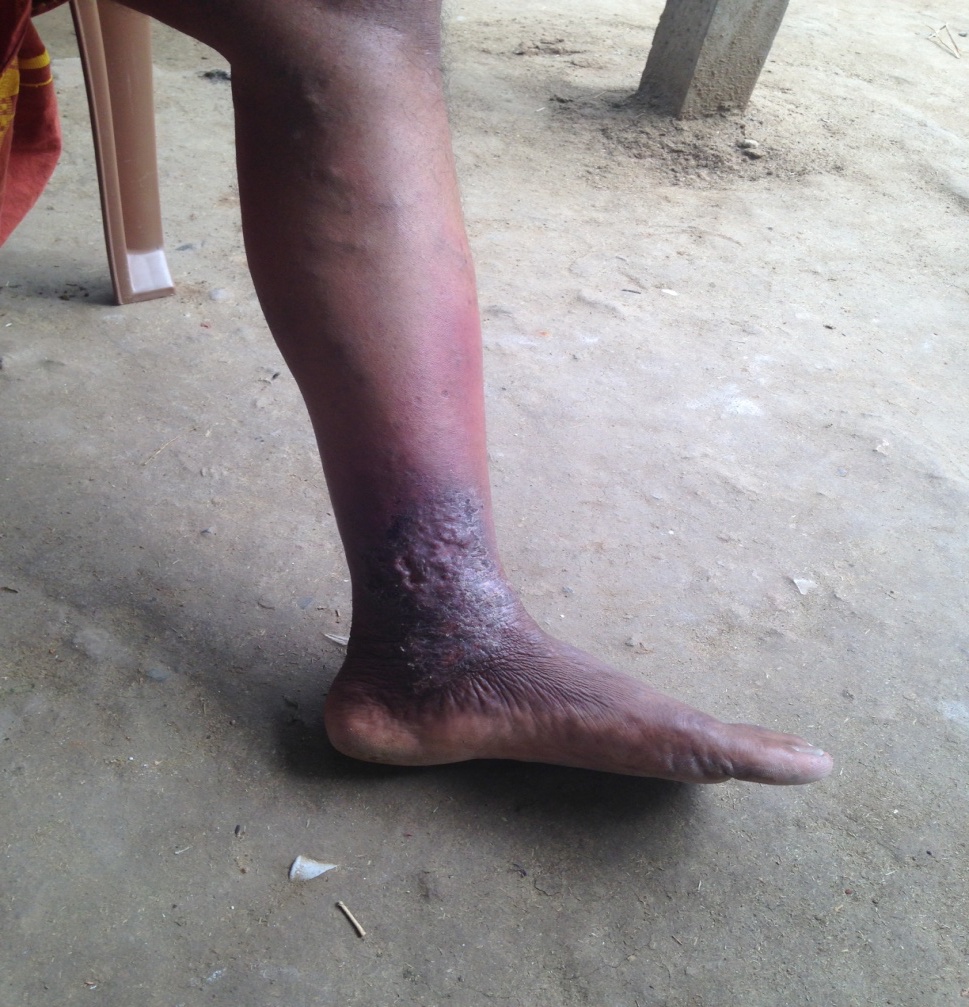 BEFORE TREATMENT
On careful examination, continuous thick discharge from the wound and the whole leg was erythematous with mild edema. He was depressed in his personal and occupational life due to above condition
He consulted an Allopathic doctor and taken anti inflammatory and analgesic drugs for 2 weeks and got symptomatic relief later reoccurred. So he planned to go with Ayurvedic treatment and was admitted in our hospital.
After careful examination, his case was diagnosed as "Sira granthi Vranam" and started internal medicines Mahatikthakam kashayam with Kaisora Guggulu, Sarsaparilla, and raktha vridhi Sinduram which are for Raktha Twak Prasadhana and Pitta shodhana. Along with these medicines , external therapeutic procedures Kashaya dhara done locally and leech therapy done continuously in alternate days.
After 5 days , his itching patches got cleared , generalized burning pain got relieved. And complaints of pain in the shin of left leg and oozing still persist so prescribed Vatari rasam with Chanda marutham and Khadirarishtam. And started lepanam with Eladi Choornam with Butter milk and choorna kizhi locally and choorna vasthi. After 5 days , oozing and pain got relieved , the wound got cleared. And started Navara kizhi locally for 5 days.
AFTER TREATMENT
The patient got discharged 21st day of admission and advises to take proper rest with diet and internal medicines Gulgulu thikthakam kashayam with kaishora guggulu, Sarasaparilla, Raktha vridhi Sindhooram for next 30 days.